Der leibliche und der interpersonale Raum
Bodily and Interpersonal Space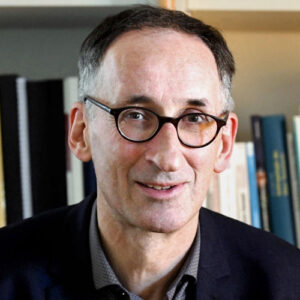 Thomas Fuchs
Philosoph / Philosopher
»Lebendige Subjektivität ist leibliches und zwischenleibliches In-der-Welt-Sein und zugleich personales Mit-Sein.«
Thomas Fuchs, Das Gehirn – ein Beziehungsorgan
»Living subjectivity is bodily and inter-bodily 'being-in-the world' and 'being with'.«
Thomas Fuchs, Ecology of the brain
»Wir nehmen nicht Reize oder Bilder wahr, sondern Gestalt- und Sinneinheiten. Wahrnehmung gestaltet die Wirklichkeit aktiv nach. Sie bedient sich der vermittelnden Prozesse, um eine unmittelbare Beziehung zu den Dingen herzustellen – eine vermittelte Unmittelbarkeit.«
Thomas Fuchs, Das Gehirn – ein Beziehungsorgan
»We do not perceive stimuli or images, rather gestalt units, meanings and affordances. Perception avails itself of the mediating processes, in order to establish a direct relation to things – in other words, a mediated immediacy.«
Thomas Fuchs, Ecology of the brain
Thomas Fuchs promovierte nach dem Studium der Medizin, Philosophie und Geschichte in Medizingeschichte und Philosophie. Er ist u. a. Karl-Jaspers-Professor für Philosophische Grundlagen der Psychiatrie und Psychotherapie an der Ruprecht-Karls-Universität Heidelberg, Leiter der Sektion Phänomenologische Psychopathologie und Psychotherapie an der Universitätsklinik Heidelberg und Koordinator des Marsilius-Projekts Verkörperung als Paradigma einer evolutionären Kulturanthropologie · Embodiment as Paradigm for an Evolutionary Cultural Anthropology.
Thomas Fuchs setzt gegen die Selbstverdinglichung des Menschen einen Humanismus der Verkörperung: Unsere Leiblichkeit, Lebendigkeit und verkörperte Freiheit sind die Grundlagen unserer selbstbestimmten Existenz. Hierzu ist zuletzt Verteidigung des Menschen. Grundfragen einer verkörperten Anthropologie erschienen.
Thomas Fuchs, MD, Psychiatrist and Philosopher, is Karl Jaspers Professor for Philosophy and Psychiatry at the Department of General Psychiatry and head of the section Phenomenological Psychopathology and Psychotherapy at the University of Heidelberg. He is the coordinator of the Heidelberg Marsilius-Project »Embodiment as a Paradigm of an Evolutionary Cultural Anthropology«. His research areas lie at the intersection of phenomenology, psychopathology and cognitive neuroscience, with a main emphasis on embodiment, enactivism, temporality and intersubjectivity. He is author of the book Ecology of the brain.